Mini Grinder Woodworking Kit
The most versatile tool you'll ever own! The range of accessories for the Mini Grinder will let you carve, shape, sand, cut tile and masonry, carve stone AND sharpen tungsten carbide!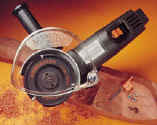 Industrial Pro Kit
The Rolls Royce blade in the Arbortech
range, the Industrial Pro Kit is designed
for the serious or professional woodworker.

Tuff Cut
For the D.I.Yourselfer or tradesman.
Makes light work of cutting timber and other
sheet materials such as acrylics & PVC piping.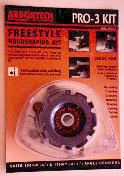 Pro 3 Wood shaping Kit
Excellent entry level tool for hobby woodworkers who want to begin power carving, or for tradesmen to have in their tool-box as a problem solving tool!

Grinder Sanding Kit
(not available in North America)
Hook and loop attachment for abrasives
allows flat sanding. Kit comes with four
abrasives in a variety of grits.
Arbortech Pty. Ltd
67 Westchester Road
Malaga WA 6090
Australia
Arbortech Pty. Ltd
PO Box 3125
Malaga DC 6945
Australia

Tel: (08) 9249 1944
Fax: (08) 9249 2936

Int Tel: 61-8-9249 1944
Int Fax: 61-8-9249 2936
Email: arbortech@arbortech.com.au
This site was last modified: Tuesday, 26 November 2002